KATALOG is not 'just a picture magazine'. We all enjoy a good story with achievements, well told and so interesting that we become a little wiser… or curious for more.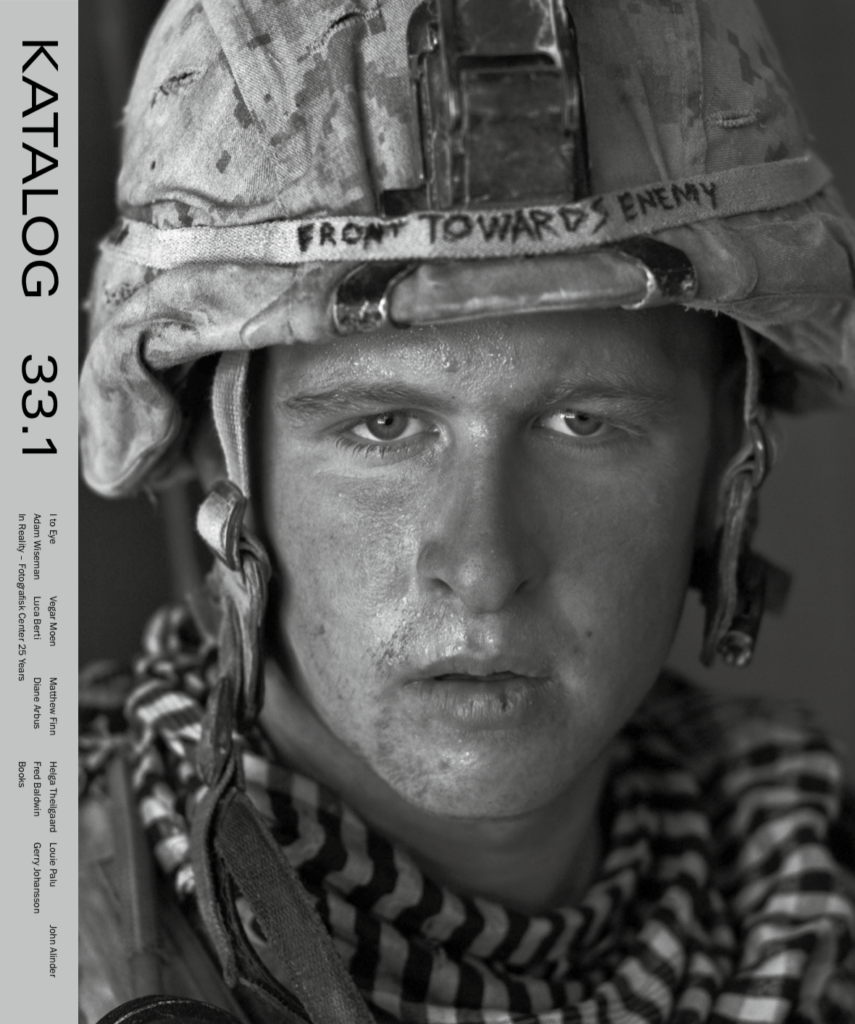 This time, KATALOG – issue # 99 in 33 years! – is packed with great stories:
Wendy Watriss from Houston speaks lovingly and personally about her time with her late partner Fred Baldwin, but also inspiringly and insightfully about the festival they together founded in 1986, FotoFest, which has been and still is an important network – 16 pages in total.
Also for this journal indeed – for instance in the chapter I to Eye you are introduced to the artists Matthew Finn, Adam Wiseman, and Louie Palu (cover) whom I first met at FotoFest's Meeting Place Portfolio Review 8-10 years ago – unforgettable meetings and images, that have been waiting for the opportunity to be shown in KATALOG – along with striking portraits by Helga Theilgaard, Vegar Moen, John Alinder, and Luca Berti.
Jeffrey Ladd describes – as a bibliophile – so passionately Swedish Gerry Johansson's book publications, that you will hopefully want to hold, smell and look at his books yourself. Because photographs are meant to be enjoyed in real life – whether it is on exhibition walls or in art books.
Henning Wettendorff reports on an exhibition, a book and a seminar, all three of which are based on the gallery Fotografisk Center's 25th anniversary – and thereby provides a thorough insight into exciting developments within Danish AND Scandinavian art photography in the past quarter of a century.
We can't wait to celebrate issue # 100 in November, so take advantage of our offers.
A. One year personal subscription (2022) for only € 38 (2 issues) 
– or include a good read in back issues with introduction offers:
B. Two years subscription (2021-2022) for € 70 (4 issues in total)
C. Three years subscription (2020-2022) for € 100 (6 issues)
D. Four years subscription (2019-2022) for € 130 ( 8 issues + 1 extra i.e. the # 30.2 jubilee issue Fast Forward: Women in Photography 
(prices are subject to VAT inside EU)
Please email shop @ katalog-journal.com to receive an invoice for your chosen offer A, B, C or D.
Back issues are available too: www.katalog-journal.com/index/
Enjoy – and stay curious.

Jens Friis
Publisher/Editor