Monthly Archives: June 2022
KATALOG is not 'just a picture magazine'. We all enjoy a good story with achievements, well told and so interesting that we become a little wiser… or curious for more.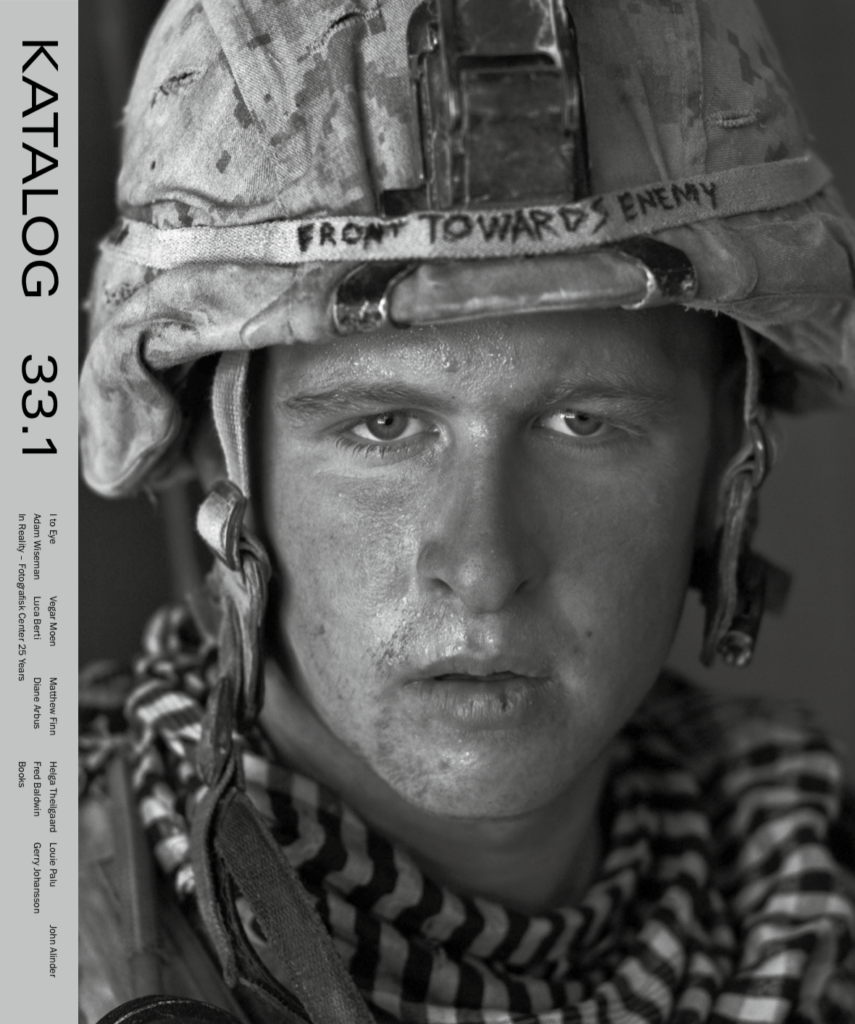 This time, KATALOG – issue # 99 in 33 years! – is packed with great stories:
Wendy Watriss from Houston speaks lovingly and personally about her time with her late partner Fred Baldwin, but also inspiringly and insightfully about the festival they together founded in 1986, FotoFest, which has been and still is an important network – 16 pages in total.
Also for this journal indeed – for instance in the chapter I to Eye you are introduced to the artists Matthew Finn, Adam Wiseman, and Louie Palu (cover) whom I first met at FotoFest's Meeting Place Portfolio Review 8-10 years ago – unforgettable meetings and images, that have been waiting for the opportunity to be shown in KATALOG – along with striking portraits by Helga Theilgaard, Vegar Moen, John Alinder, and Luca Berti.
Jeffrey Ladd describes – as a bibliophile – so passionately Swedish Gerry Johansson's book publications, that you will hopefully want to hold, smell and look at his books yourself. Because photographs are meant to be enjoyed in real life – whether it is on exhibition walls or in art books.
Henning Wettendorff reports on an exhibition, a book and a seminar, all three of which are based on the gallery Fotografisk Center's 25th anniversary – and thereby provides a thorough insight into exciting developments within Danish AND Scandinavian art photography in the past quarter of a century.
We can't wait to celebrate issue # 100 in November, so take advantage of our offers.
A. One year personal subscription (2022) for only € 38 (2 issues) 
– or include a good read in back issues with introduction offers:
B. Two years subscription (2021-2022) for € 70 (4 issues in total)
C. Three years subscription (2020-2022) for € 100 (6 issues)
D. Four years subscription (2019-2022) for € 130 ( 8 issues + 1 extra i.e. the # 30.2 jubilee issue Fast Forward: Women in Photography 
(prices are subject to VAT inside EU)
Please email shop @ katalog-journal.com to receive an invoice for your chosen offer A, B, C or D.
Back issues are available too: www.katalog-journal.com/index/
Enjoy – and stay curious.

Jens Friis
Publisher/Editor
Mr. KATALOG
… really!??

Usually, newsletters from KATALOG focus on the continued success of the journal – such as 33 years in print, increased number of subscribers, great international scope and interesting collaborations, etc., …
This time, however, let me introduce you to Mr. KATALOG and my credentials:
Ever since my early teens I have been passionate about photography; initially as an amateur and semi-professional photographer, but later as a student of art history and a four-years stint as a gallery assistant in London selling photographic works of art by Irving Penn, William Klein, Robert Mapplethorpe and many others. These early years gave me many valuable international connections – and the rest is history:
"Jens Friis has a MA in History of Art with emphasis on photography. He is an independent curator and consultant, photo historian and avid book collector as well as publisher. From 2003-2016, he was curator in charge of the photographic collection at Museet for Fotokunst in Odense, Denmark as well as the artistic co-director of the photo festival FotoTriennale.dk initiated by same museum – both now regretfully defunct.

During this period he was also the editor for the bilingual KATALOG – Journal of Photography & Video initiated by said museum. In 2015 he personally took the helm of this internationally recognized journal, which is now independently published in its 33rd successful year with contributors, subscribers and readers all over the world. With an editorial "flexi-board", KATALOG is also an international platform for projects such as Nordic Photo Festival Network, the Creative Europe partnership Parallel and most recently the international Fast Forward – Women in Photography launched at Paris Photo and Tate Modern in 2019. KATALOG has also worked with the festivals in Cardiff, Glasgow, Houston, Landskrona, Lisbon, et al.

As an author, he has written numerous articles for KATALOG, other journals and several introductions. He has contributed to anthologies e.g. Danish Photographic History (2004) and The History of European Photography 1970-2000 (2016). 
Aiding the advancement of new talents, he has served on international nominating committees for awards such as Photo Lucida (Seattle), Kolga Tbilisi (Georgia), Voies Off (Arles), as well as on the advisory committee of the Spanish magazine EXIT. 
Since his debut as a portfolio reviewer at the Houston FotoFest in 2004, he has participated in more than 70 festivals, fairs and seminars sharing his knowledge, advice and connections, but also gathering valuable material for exhibitions and future issues of the journal."                              
Based on and growing through meetings at festivals and seminars, this international network is vital to the continued success of KATALOG. Thus you will find many of my museum and festival colleagues as writers of interesting articles as they are equally passionate about photographic art as well as helping budding artists to bloom. Please make sure to visit https://katalog-journal.com/index/ to peruse the list of artists and "flexi-board" authors.
KATALOG is also a distribution tool for important exhibitions that could do with a little extra exposure – as a subscriber you might have noticed the exhibition folders frequently added to your envelope.
As a non-profit venture the increased number of subscribers ensures that the journal is getting even better: better paper and printing, better binding and even packaging – all to the benefit of the readers.
With my motto – I encourage you too "to connect, share & enjoy".
Warm regards,
Jens Friis
aka Mr. KATALOG